September 1, 2018
Fine Fall Foliage at the Darby Field Inn
By: Marc Donaldson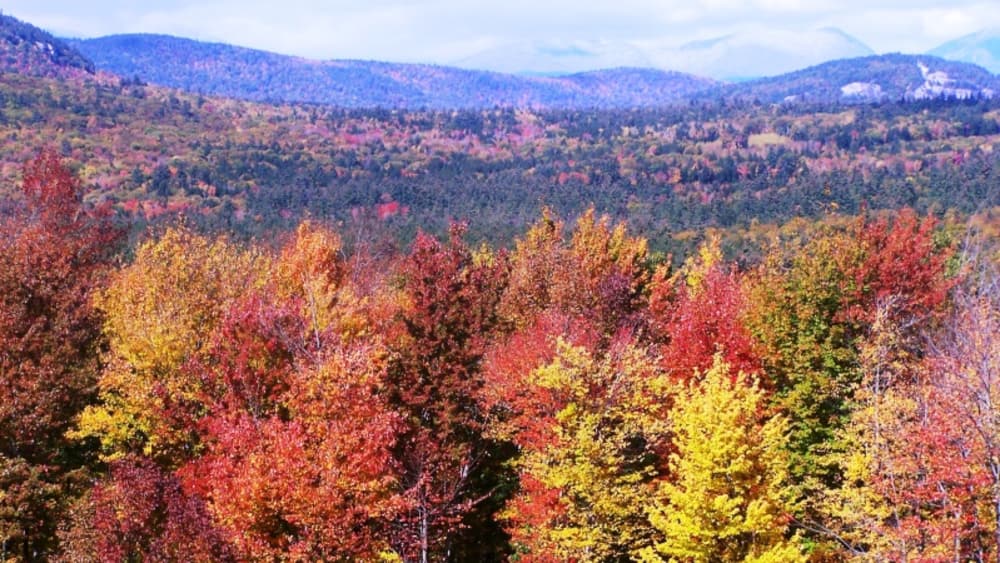 When fall comes to the Mount Washington Valley, excitement is in the air. Everyone excitably waits for "peak foliage," making bets about when it'll come. Leaf-peeping is a major fall activity in the White Mountains of New Hampshire! It brings visitors from all over the country - and the world, to witness the brilliance of a New England autumn display. There's nothing like it!
At Darby Field Inn, we're in the finest spot to view foliage at its best. We're surrounded by maples, oaks, beeches, and birches that lend their unique colors to the autumn palette. Our views of South Moat, Mount Washington, and other local mountains are framed by their arrays.
From the inn, it's a short drive to the scenic Kancamagus Highway (RT 112), one of the best places in New England to view foliage. As you drive along the Swift River, autumn leaves decorate the water course. Climbing up through the Kancamagus Pass, colorful mountain vistas show off their colors. There are places along the way to stop and admire the scenery, take your "leaf-peeper" pictures, and enjoy the crisp fall air. Check out this site for more information about foliage on the Kancamagus Highway: http://www.kancamagushighway.com/foliage/.
"Peak" foliage is when the leaf colors are the brightest and most widespread, but that can be a matter of opinion and perspective. What is one person's idea of peak may not be another person's. Some people rely on "peak apps" and foliage meters https://www.visitnh.gov/foliage-tracker to find the perfect display. Some consult the "Foliage Cams" https://nhtourguide.com/live-nh-fall-foliage-cams-248.html. Even local news and weather stations get into the game of predicting when it will be "peak" foliage.
According to Kancamagus's foliage guide, "peak" foliage usually arrives in the first two weeks of October. By the 3rd to 4th week of October, colors become more muted and turn to brown. Weather plays an important role in determining when the leaves will start to turn, how bright they will be, and how long they will last. A dry summer can affect the colors. Cold weather will bring on color changing sooner. Wind and rain can accelerate leaf fall.
The fall foliage phenomenon travels from North and West in the state to South and East, so you can actually follow it from one side of the state to the other, if you have September and October free.
Make your plans soon to visit Darby Field Inn, located in the heart of the White Mountain National Forest fall foliage show! You'll enjoy our comfortable accommodations, delicious food, genuine hospitality, and, of course, our fine autumn views!