March 20, 2018
Spring Skiing and Snowshoeing at the Darby Field Inn
By: Marc Donaldson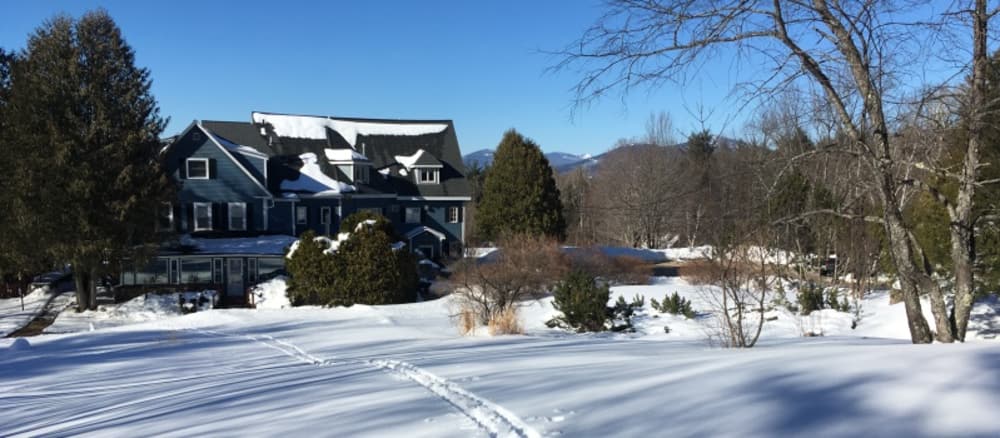 With the recent snowstorms, we've picked up a lot of fresh snow here in Albany. Trails are snow-covered and fun, and low temperatures have kept the snow fresh! Now's the time to get out your skis and snowshoes to enjoy some great spring skiing and snowshoeing. If you don't have snowshoes, you can rent some here, plus get expert advice and maps. You don't have to say goodbye to winter fun just yet. There's more fun to be had in the snow!
After an afternoon playing on our trails, come in and sit by the fire, have a hot beverage, and relax. Reserve a deluxe room and enjoy a soothing Jacuzzi and gas fireplace. On weekends, dine with us and experience fresh, local cuisine. Check out our current dinner menu. After dinner, join others in the tavern for some after dinner beverages and conversation before heading back to your comfortable room.
In the morning, come down to breakfast and views of Mount Washington. Our full country breakfast will fortify you for the day ahead and more snow-ventures on our trails or at local ski mountains. We offer inn guests a special deal at Cranmore Mountain. Book a room with us and we'll give you the promo code to save up to 45% off tickets. Hurry- the offer expires April 1st. Don't miss out of great spring skiing in the White Mountains!